Posted by UrbanHyve Team on 2nd Apr 2020
Have you ever been a key decision-maker responsible for hiring? If you have taken interviews or hired people, you would know it for a fact – first impressions matter a lot, whether one likes it or not.
There are several entrepreneurs and business operators who understand the value of the idea of the first impression. Hence, they are always spick and span in presenting themselves as well as their business idea. But, when it comes to their office spaces, somehow this powerful idea takes a back seat.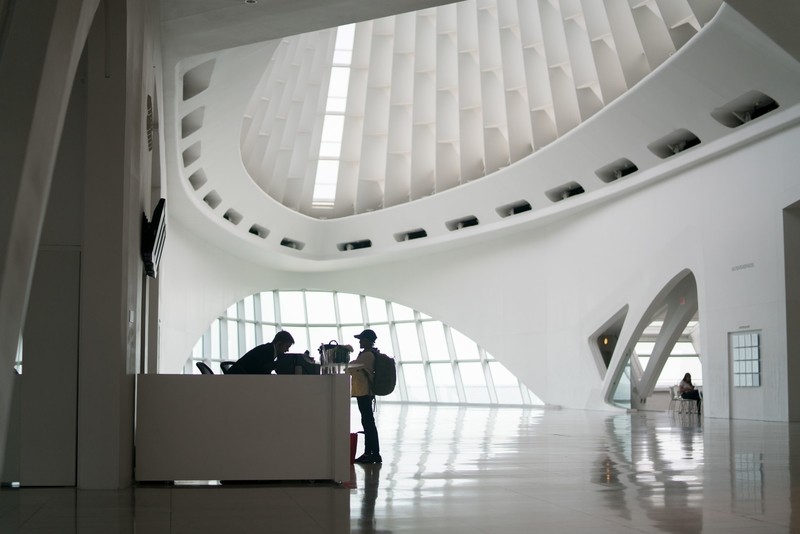 First impressions matter and this holds true for your office space as well. When a new employee or an investor or a client walks into your office, they should feel welcomed.
They should be able to gauge how organised your business is and how motivated your employees are, from the moment they are greeted at the reception. Believe it or not, the reception desk plays a critical but silent role in their entire process.
Getting worried about choosing the right office reception desk? We have something you would love.
The Comprehensive Guide to Office Reception Desks
Think about the reception area as a microcosm of your entire office. If your office is a high-end services business, your office reception desks should reflect the same. The material should look clean and be durable. Your corporate brand should be legible and branded clearly on the reception desk. At the same time, your team at the reception desk should be given the necessary tools to get the job done – ideally, a computer, a logging system and a phone.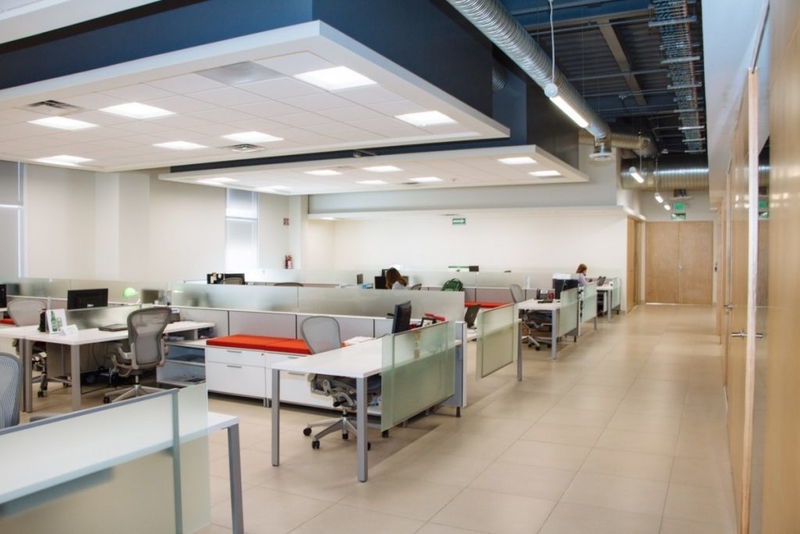 Now, when all of this is resting on the office reception desk, it will have to have the right build quality and the right design. An office reception desk that is chosen only on the basis of its price will stand out and might not even carry the necessary features necessary to make the reception area effective.
Here is a small checklist you can take care of, to ensure that your office reception desk is helping your reception team perform at their best
Height
You might have to think about the working hours in your office when you are deciding what would be the ideal height of your office reception desk. If your office is working for long hours, your reception team might be there round the clock.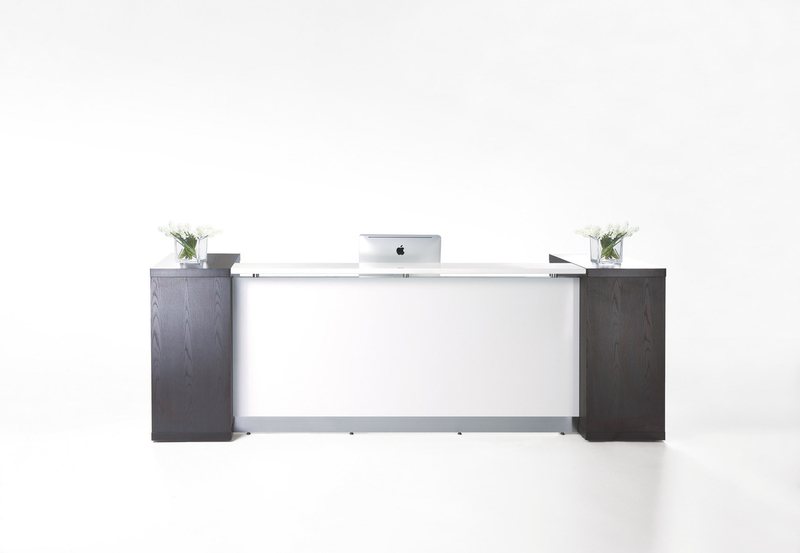 Aston White Reception Counter Units
Since you cannot go for a height-adjustable reception desk, you will have to ensure that your reception area team can do its job while sitting comfortably behind the office reception desk.
Design
The most important aspect of the office reception desk is its design. Apart from carrying a cohesion with the office interiors, it should also have a good amount of functionality.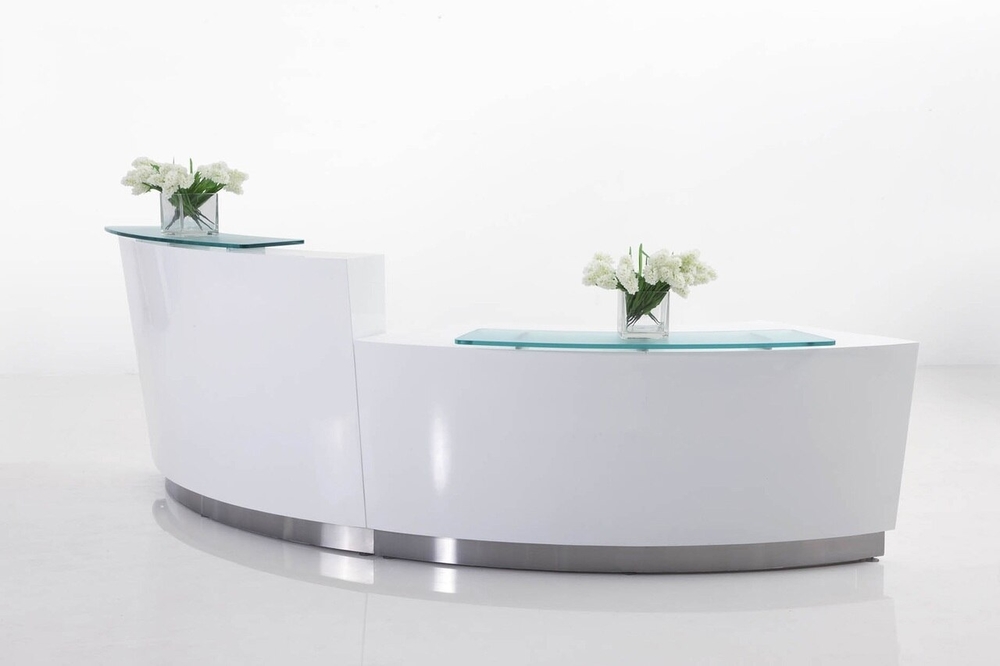 Evo Two Person Reception Counter
Since the desk will have some electronic gadgets installed on it, it should have the necessary holes and cavities in its body to take care of the wiring. The colours have to be in-line with your brand's logo but should not be too loud.
We can help you get just the right office reception desk
We have helped several businesses get the right office reception desk. You might be running a growing company or an established professional firm. You might have the constraints in budget or you might be trying to maximise the real estate usage. Whatever your criteria, we will help you choose the right office reception desk.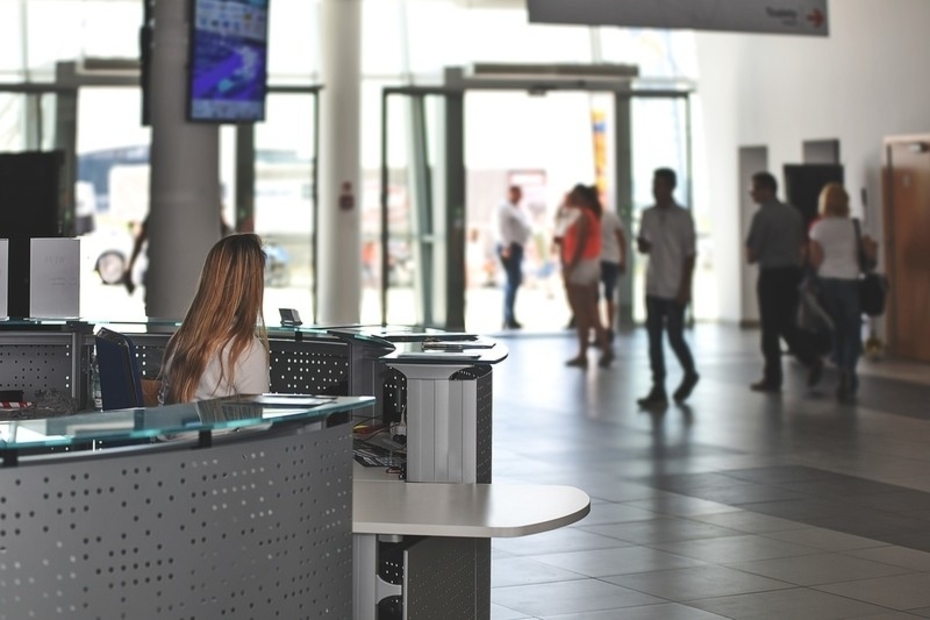 We start our process by offering you a free office design consultation session. This way, we take a problem-solving approach instead of pushing you through an age-old catalogue of products. Get in touch with our team today!